2018 Heartland Conference
The Heartland Committee is excited to announce that Steven Sloman, PhD, will be one of two guest speakers, along with Michael Kerr, MD, at the 2018 Heartland Conference, "Cognition, Connection and Bowen Theory."
The annual Heartland Conference is open to the public and is dedicated to science and theory.  It convenes on the Maple Woods Community College campus and is scheduled for Friday, March 2, 2018.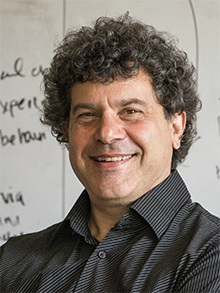 Steven Sloman, PhD, is a Professor in the Cognitive, Linguistic and Psychological Sciences at Brown University, where he focuses on the study of knowledge. His recent book, The Knowledge Illusion: Why We Never Think Alone, delves into the success of humans resulting from the rich community of knowledge they share. To read more of Dr. Sloman's research, click here: Sloman Lab
Michael E. Kerr, MD, is a family psychiatrist. He trained under and worked with Murray Bowen for more than twenty years, and then succeeded Dr. Bowen as Director of the Bowen Center for the Study of the Family (originally the Georgetown University Family Center) upon Dr. Bowen's death in 1990. Dr. Kerr has been Emeritus Director of the Bowen Center since January 2011, is Director of the Bowen Theory Academy, and is now living in Maine. He continues a clinical practice, presents at conferences around the country, and writes about Bowen theory and its applications. He is co-author with Murray Bowen of, Family Evaluation, which was published in 1988 (excerpted in The Atlantic Monthly in September 1988), and is writing a second book. To review some of Dr. Kerr's extensive work, please visit his web site blog: bowentheoryacademy.org/blog
Date/Time: Friday, March 2, 2018; 9:00 am-4:30 pm
Location: Maple Woods Community College campus, Campus Center, Room 110
Registration fee: $160 if paid by February 15, 2018 ($175 after)

6 CEUs are available.
---
Past speakers have included Lisa Feldman Barrett, PhD, Laura Brooks, LSCSW, Larry Carver, MD, Dalton Conley, PhD, Mark Flinn, PhD, Jeff French, PhD, Louise Hawkley, PhD, Jim Edd Jones, PhD, Kathleen B. Kerr, MSN, MA, CNS, Michael E. Kerr, MD, George Kulik, DVM, PhD, Robert Noone, PhD, Margaret Otto, LSCSW, Daniel Papero, PhD, Deloras Pemberton, PhD, Steven Platek, PhD, Charles Raison, MD, and Mark Vincent, MD, MRCP (UK), FRCPC.
---